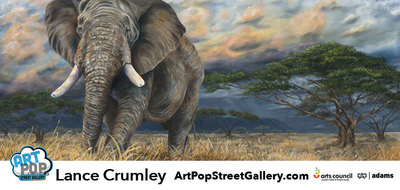 More than 60 artists submitted entries for this year's competition. There are six winners -- five adult artists and one high-school senior artist who will be attending college for visual arts studies in the fall.

​

This is the fourth collaborative partnership between ArtPop, the Triad billboard industry and The Arts Council. Since 2016, a total of 15 artists have benefited through increased exposure and sales for their artwork.

​

"This collaboration with the billboard industry is one of The Arts Council's most rewarding projects," said Randy Eaddy, Arts Council President and CEO. "It recognizes the talent of extraordinary visual artists in our region and places their work squarely in the public eye along our highways. In fact, it creates a 'Street Gallery' with countless numbers of viewers each year."

​

All works submitted for the ArtPop competition are original works of art. ArtPop (Art+ Public Outdoor...